ASIEQ Conference 2022 – Pivoting and Progressing
March 9 @ 8:00 am

-

March 10 @ 5:00 pm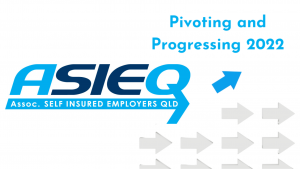 The 2022 ASIEQ Conference will be a multidisciplinary event exploring the unique and ground breaking ways organisations have pivoted to not just survive, but progress in these strange times.  We have seen ground breaking leaps which in normal times may have taken years to implement, being made in a matter of weeks.  How have these changes affected the way in which workers' compensation is managed and what will we continue to improve in the future now that we are on this new path?
Change is a given in the workers' compensation field – schemes must be flexible to meet the needs of workers, especially when how and where we work creates a new landscape.  How are employers coping with large portions of their workforce working from home and what are the implications of injuries made in the home where the work/home lines are now blurred?  How do we ensure workers are getting the treatment they need when travel has become difficult and at times unreliable?  How do we deal with employees that don't want to take holidays and are suffering from fatigue, creating a greater risk of injury?  These are just some of the questions we'll be examining as we give those in the Self Insurance, Workers' Compensation and safety/wellbeing space an opportunity to connect, learn and laugh.
Join us in March 2022.
This event will be relevant for:
Self Insurance License Managers
Government (regulatory, compensation and prevention arms)
Case/Claims Managers
Rehabilitation Co-ordinators and Injury Management Advisors
Rehabilitation Providers
Safety and Wellbeing Professionals
Insurance Auditors
Lawyers
Actuaries
Dates for the conference will be released soon.  For more information, email our Event Manager or call us on 07 5429 8480.