BT Lawyers = Breakfast Seminar
June 19, 2020 @ 9:30 pm

-

11:00 pm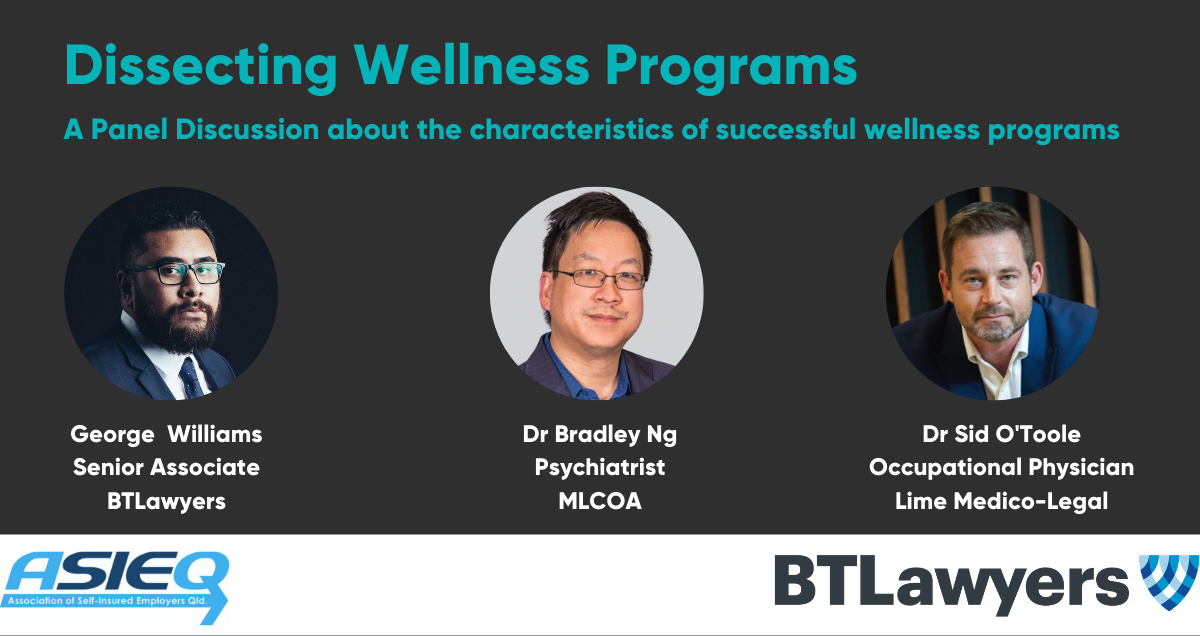 Dissecting Wellness Programs – Dr Bradley Ng, Psychiatrist & Dr Sid O'Toole, Occupational Physician
BTLawyers is pleased to present the next ASIEQ Workshop
Join BTLawyers and ASIEQ for breakfast as we explore the topic of  Wellness Programs from a practical, psychiatric and occupational perspective.
Workplace wellness programs can bring physical, mental and emotional benefits to employees. They can help build employee trust, reduce stress, foster a community feeling in the workplace and improve workplace morale.
However, not all workplace wellness programs are created equal, and during this session we turn our minds to exploring the "good", the "bad" and the "ugly" of wellness programs. We will endeavour to facilitate this discussion in a novel way, by having our panel create and defend their own wellness program to the audience.
The event will be facilitated by George Williams – Senior Associate, and will feature Dr Bradley Ng, Psychiatrist courtesy of MLCOA and Dr Sid O'Toole, Occupational Physician courtesy of Lime Medico-legal.
Dr Bradley Ng trained as a Fellow of the Royal and Australian New Zealand College of Psychiatrists in both New Zealand and Australia and has worked in both the private and public sectors. He is a member of the Faculty of Psychiatry of Old Age, the Faculty of Psychotherapy and Faculty of Forensic Psychiatry.
Dr Sid O'Toole is an Occupational and Environmental Physician who offers expert advice on the risks occurring at the interface of health, work and the environment. He has worked across resources, aviation, government and small to medium business sectors. Dr O'Toole provides an informed, balanced and evidence-based approach to decisions regarding fitness for duty.
Please note, due to the popularity of the ASIEQ events presented by BTLawyers, we have changed the event venue to now be held at the larger Ibis Styles on Elizabeth St. Further details below.