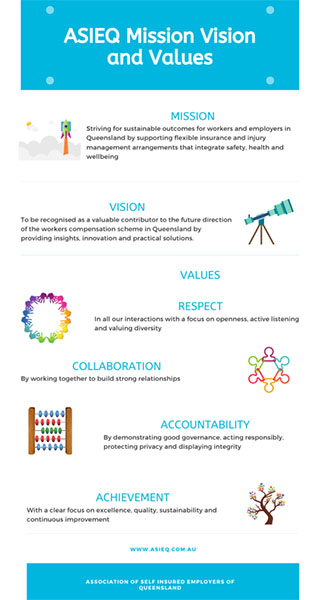 ASIEQ are very pleased to launch our Mission, Vision and Value.
Our Mission
Striving for sustainable outcomes for workers and employers in Queensland by supporting flexible insurance and injury management arrangements that integrate safety, health and wellbeing.
Our Vision
To be recognised as a valuable contributor to the future direction of the workers compensation scheme in Queensland by providing insights, innovation and practical solutions.
Our Values
Respect
In all our interactions with a focus on openness, active listening and valuing diversity
Collaboration
By working together to build strong relationships
Accountability
By demonstrating good governance, acting responsibly, protecting privacy and displaying integrity
Achievement
With a clear focus on excellence, quality, sustainability and continuous improvement